We're always being asked, in fact we're always debating it ourselves; which is the best pasty in town? My stock answer is 'the one I have in my hand'. Is there such a thing a bad pasty? Always keen to be of help, we decided to undertake extensive and painstaking research on your behalf. Here are the results of our expert testing. We present to you the top 10 pasties in Bude. (Actually, it might be the only 10) Each pasty was scored out of 10 by our four family reviewers.
No. 10. Morwenna  Cafe
We hear good things about these pasties, indeed, we've partaken ourselves on a few occasions. Sadly on the day of the big review, they had sold out, so on the basis that if you can't eat it, you can't rate it, this one, for now, has to draw a blank. On another day we'll compare it against our eventual winner so watch this space.
---
No. 9. Grumpy's


The Grumpy pasty is a fine looking fella: plump, streamlined  but with highly controversial top-crimping. Weighing in at a middle-weight 340g but selling for a bargain £2.10. This is the winner of the grams to pennies equation and a great value pasty. However: on this occasion the sample we bought was deemed inedible by all four reviewers. It had a very strange lemony (off) taste and none of us were prepared to take a second bite. Having said that, we have bought Grumpy's pasties quite a lot in the last few months and not had a bad one before, so when we come to re-test, we'll happily try another one.
Weight 340g, Price £2.10 (0.62p per gram)
Score: 0/40 (Sorry Grumpy) (0, 0, 0, 0)
---
 Joint No. 7.  Polmorla / The Granary
Polmorla pasties are available direct from their bakery on the industrial estate, or from "The Granary' in Queen Street in the town centre. As we suspect you are much more likely to purchase from the latter, we are basing the pricing on The Granary's version. This is an upper-middeweight piece of Cornish nourishment which we were highly anticipating; having heard good things. However it was something of a disappointment. Nothing inherently wrong with it; it looked ok; had 'proper' side crimping but the taste had a hint of an Indian spice which none of us could quite put our finger on, and the pastry was slightly doughy. Overall, bland and slightly strange-tasting.
Weight 352g, Price £3.20 (0.99p per gram)
Score: 19/40 ( 6, 4, 4, 5)
---
Joint No. 5.  Lansdown Dairy / Crescent PO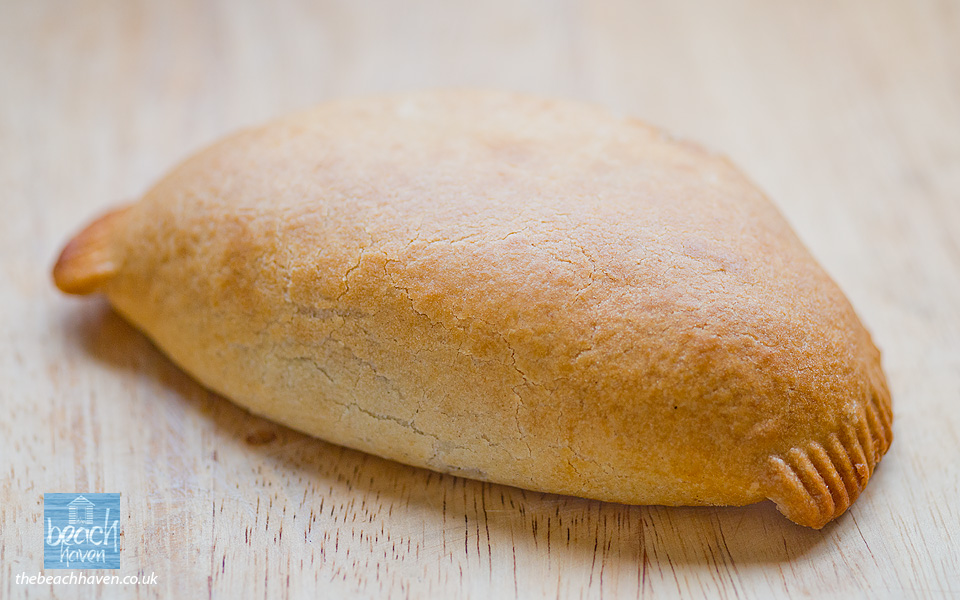 These two pasties appeared to come from the same bakery and were the smallest of the varieties we tried. The one we bought from Lansdown Dairy was both slightly weightier and slightly cheaper than from the Crescent Post Office so we are using theirs as the sample. This was another pasty that didn't attract strong feelings in any particular direction apart from its appearance which reminded us of a weird, bloated fish with tiny fins. Certainly not a traditional-looking pasty. Rather insipid and nondescript. On the plus side, this is the cheapest pasty in town 🙂
Weight 240g, Price £1.80 (0.75p per gram)
Score: 21/40 (6, 5, 5, 5)
---
No. 4.  The Bakery
The pasty from The Bakery was a bruiser. Just touching the 400g mark  which made it the second biggest pasty in town. It was also the joint most expensive at £3.50. They make a good looking pasty in the proper, traditional shape with a good crimping to grab hold of. The pastry was nicely basted which made it aguably the best looking of the bunch. Unfortunately this one suffered from not being hot enough which made the pastry rather stick to the roof of the mouth. Like most of the above, it tasted a bit bland with insufficient seasoning.
Weight 400g, Price £3.50 (0.87p per gram)
Score: 23/40 (7, 5, 6, 5)
---
 No. 3.  Lansdowne Bakery
The Lansdowne Bakery pasty has attitude. If it was a rugby player it would undoubtedly play in the front row: squat, plump, heavyweight with in-yer-face attitude. The crimping was certainly worthy of a hooker's cauliflower ear but I digress. Another proper-shaped pasty bursting at the pastry. It was narrowly beaten into third place on the scales weighing in at just shy of 400g. As a family, we like a peppery pasty. This was a peppery pasty. If we've accused the others of being bland, this one went perhaps a little too far the other way.  We suspect this might repeat on you a little. We suspect this might repeat on you a little. We suspect… ok, so that wasn't very funny.
Weight 392g, Price £3.25 (0.83p per gram)
Score: 26/40 (6, 7, 6, 7)
---
No. 2. Pengenna
The biggest of the bunch – a humdinger of a pasty tipping the scales at 417 grams. Also the joint most expensive though at £3.50. Pengenna have an enviable reputation in town and they also have bakeries in Tintagel and St Ives. This pasty is a great-tasting, nicely seasoned pasty. But. A pasty is an eat-on-the-go product, invented by Cornish miners' wives for their hubbies to take down deep under the sea a couple of hundred years ago. The casing (pastry) needs to be robust enough to withstand a few knocks. Sadly the Pengenna pasty didn't even survive the trip home in the car intact. It needs to be that big because if you're eating it out of your hand, you'll lose half of it onto the pavement! In addition to being too fragile, the pastry was also a let-down in the taste department. And – it's a top crimper – with a name like Pengenna? Shameful! The filling though was up there with the best of the bunch.
Weight 417g, Price £3.50 (0.84p per gram)
Score: 31/40 (9, 7, 7, 8)
---
No. 1. Tasty Pasties
And so to the winner. More modestly-sized at 288g but costing £2.55 and certainly not a particularly good-looking example, the Tasty Pasty was deemed the best-in-test by three of our four reviewers. Properly spiced, good-sized meaty chunks, moist with excellent pastry, side crimped and robust enough to do the job. This is our recommended Bude pasty. We asked for 'Large' in all establishments and although this was one of the smaller ones, they also do a Giant if you're so inclined!
Weight 288g, Price £2.55 (0.88p per gram)
Score: 32/40 (8, 9, 7, 8)
---
Although these positions reflect our opinions on the day, another time we might rank them differently so take the results with a pinch of salt (and pepper!).  Everyone has different tastes and opinions so try it for yourselves, it's fun 🙂
Comments
comments