Are you looking for a dog-friendly holiday cottage in Bude? As dog-owners ourselves we are well aware that many people love to take their dogs with them on holiday but there aren't many dog-friendly holiday cottages in Bude. At the Beach Haven, we welcome up to three dogs.
The Beach Haven sleeps up to 8 people in 4 bedrooms but out of season, the property is based on a price for 4 people so you get all the space with much less cost! It is just a short, ten-minute stroll to dog-friendly beaches, National Trust clifftops and Bude town centre. Also within a few minutes walk are dog-friendly cafes and pubs.
The enclosed, and totally secure, back garden has a special dogs-only area and a composting waste bin is provided.
There are plenty of beaches in the area that allow dogs all year round and an abundance of footpaths, cliff paths and open country that your dog will adore! Please take care near cliff edges though!
We have made special provisions for dogs and just the bare minimum number of house rules needed to keep everyone happy.
We know that at home our dogs can become a little too familiar and we sometimes turn a blind eye to rules like 'no snuggling on the furniture'! When they're are away from home it can be difficult to impose new rules so if your dog insists on having a cuddle with you on the sofa, please bring some throws/towels with you which we ask you to pop on the sofa first. (If you forget, we have some spares in the doggie-cupboard.)
Because we pride ourselves on cleanliness, and the quality of our bed-linen, we do insist that dogs are not allowed on the beds. However, if your dog likes to share your bed, then please bring your all own bedding. They are welcome to sleep in the bedroom with you if they wish 🙂
Although Bude is one of the driest places in the country, even here the paths can get muddy and our four-legged pals are only too ready to have a wallow! Fortunately, you are never far from a stream or beach to wash the worst off but we have an outside shower which we ask you to use to wash off the worst of the mud and sand. We have lots of dog towels for you to use which can be found in the doggie-cupboard in the Beach Hut.
We supply bio-degradable poo-bags on arrival. Please use the various bins provided throughout the locality when out on a walk. (We have a note of the locations in our Holiday Handbook). If your dog makes a mess in the garden (and we do have a special doggy area set aside for this), please use the scoop provided and pop it in the composting dog loo located by the compost heap. (In this instance don't bag it first!)
If you must leave your dog alone we would prefer that this is done in the Beach Hut or shut in the kitchen. As The Beach Haven is in a quiet residential area, we request that you don't leave your dog alone if they are anxious barkers. We may well be able to doggy-sit for you should you wish to go out for a restaurant meal and would much rather do this than have our neighbours upset. Please just ask.
We have a special doggie-cupboard in the Beach Hut with spare towels, dog toys, a spare collar and lead and some temporary dog-tags. Please make sure they are all returned cleaned and dried at the end of your stay.  A water bowl, dog blankets and towels are also supplied but it is recommended you also bring your own.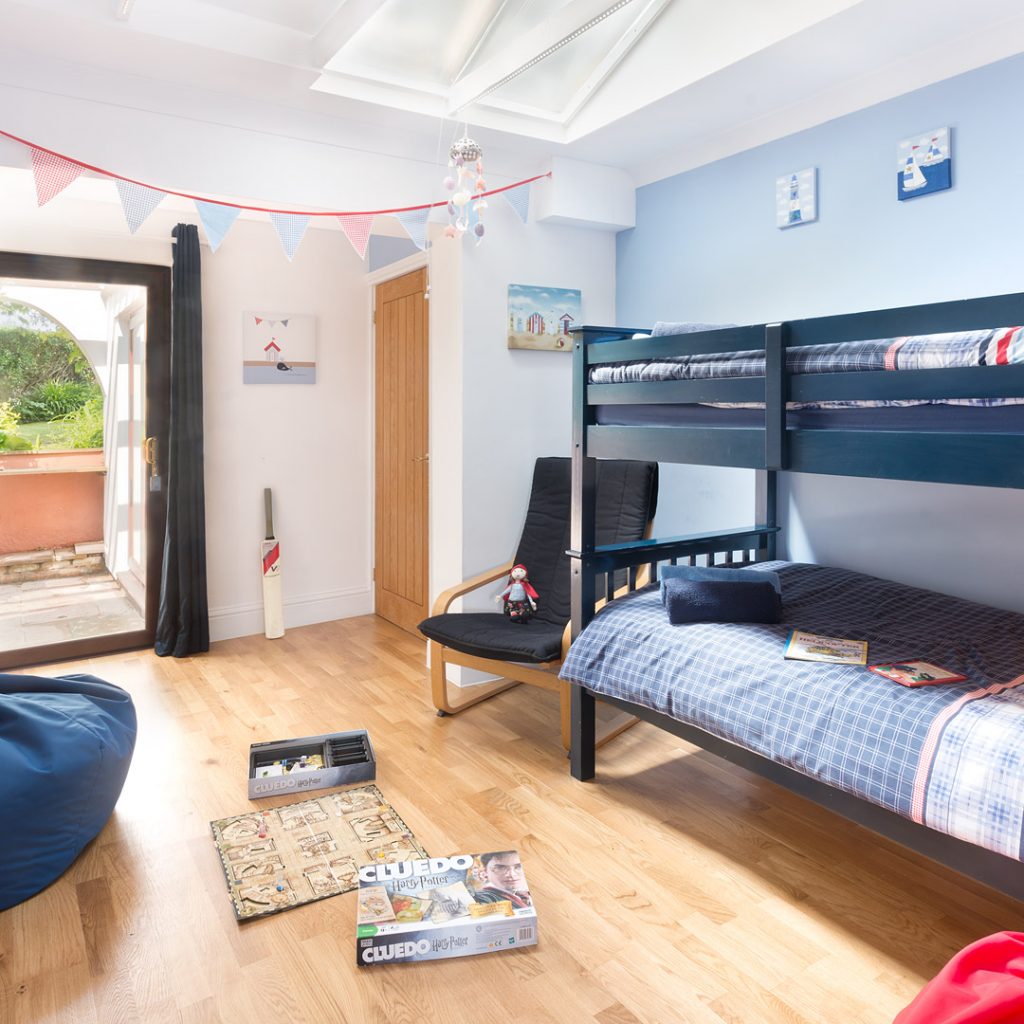 Should you wish to go off without your dog, we may be able to provide dog sitting and/or walking, by prior arrangement. Finlay will be delighted to show your dog all the places to sniff out! Bude is a very dog-friendly holiday town
Bude is well endowed with dog-friendly places to eat and drink and our guest brochure has a full list of suggestions along with details of the best local walks, the location of dog-bins and any potential hazards (such as sheer cliffs or livestock). With wide expanses of sand, rock-pools, wide open cliff tops, the sea to splash in along with lots of scenic inland walks, your dog will have the holiday of their lifetime at our dog-friendly holiday cottage in Bude!
Dog friendly holiday cottage in Bude
There's a great new site been launched called Dog-Friendly Cornwall with some fun and useful pages such as these: